This month, Data Clarity celebrates its 10 year anniversary of delivering award-winning omni-channel, Master Data Management, clientelling, data analytics and BI solutions. On January 4th 2011, co-founders Kevin Carrick and Pana Lepeniotis set out with one goal in mind – bringing value to organisations from their data.
Data Clarity empowers companies to focus on their business objectives through our award-winning data-driven systems. We specialise in transforming data into actionable business insights, streamlining workflows, automating and simplifying processes.
This has been vital from Data Clarity's beginnings in 2011 with Clarity365, time and expense management software, to our latest award-winning data management and analytics suite, ClarityOmnivue, and our data management services, including data auditing.
Customer-focused Solutions and Successes through 10 Years
Building on a reputation of quality products and services, Data Clarity has grown to become a leading provider of data management and analytics tools for organisations across multiple industries, including retail and aviation.
We strive for excellence, working with customers, including Paul Smith and dnata, to deliver success and will continue with this ethos in the years to come.
As an example of the benefits of close working relationships with our partners and clients, Data Clarity has been working with retailers, such as Paul Smith, to fully understand their internal systems and to provide the integration tools necessary to create the Golden Record of retailers' customers.
Data Clarity has worked closely with dnata, part of the Emirates Group, for a number of years, developing and launching ClarityWMS, to revolutionise their warehouse management processes and providing business intelligence through ClarityQB, our BI tool.
Data Clarity has branched out to the mobile market, developing the Mobile Content Management System (MCMS), a flexible tool that enables businesses to create and manage branded mobile applications in real-time and connect with their customers. Leisure companies, such as Bluestone National Park Resort and Leisure Resorts have partnered with Data Clarity to provide their clients improved levels of service.
Part of Data Clarity's recipe for success has lay in forging strong bonds with its partner network. Data Clarity CDO, Pana Lepeniotis said, "While Covid-19 has provided challenges for everyone in 2020, we would like to take this opportunity to thank all our industry partners, in particular in the Retail, Aviation, and Leisure industries, and our Reseller network for their ongoing support.
"Without it, milestones such as this would not be possible, and we are looking forward to what we can achieve in the next 10 years together."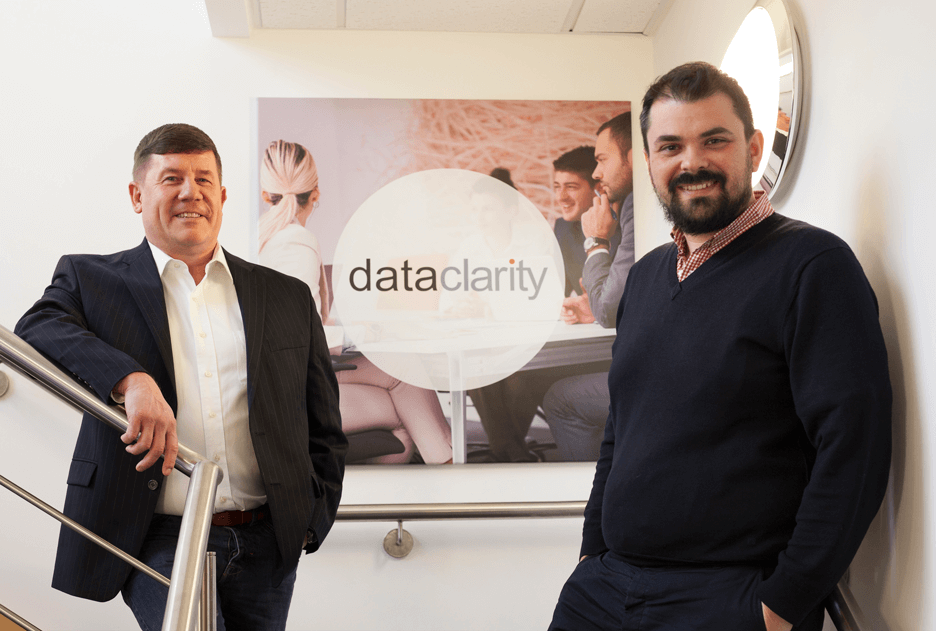 Awards Success
The focus on quality has led to continued industry recognition through the years. This has included award success including the National Technology Awards and the Retail Systems Awards for retail technology innovations and our multi-channel solution, ClarityOmnviue.
Commenting on industry success and industry recognition, Data Clarity co-founder, Kevin Carrick said, "When we established Data Clarity, we had the foresight to predict that the advent of omni-channel retailing would create headaches for businesses, particularly in marketing and sales. Those who gather data on customer buying habits across a multitude of online channels also need to integrate with data stored across internal systems.
"In developing our product suite, resolving the challenge of merging multiple customer records into one single view, we've proved that 'Golden Record Management' need not be a pipe dream or a complicated process. We're delighted that our investment has been recognised by winning such prestigious awards."
Final Thoughts
Data Clarity applies its core values of innovation and integrity with a personal approach, investing in its employees and developing a deep understanding of its clients' unique business challenges. A strong company ethos of providing high quality products and excellent service has led to valuable, long lasting client relationships and new product development.
The last 10 years have been an incredible experience and the next 10 promise to be just as exciting. Stay tuned for more updates on our upcoming projects and product releases.